Bags and pouches
High-quality pre-made pouches of diverse sizes, formats, materials and functions and assure maintainance of your product's freshness, fragrance and flavour.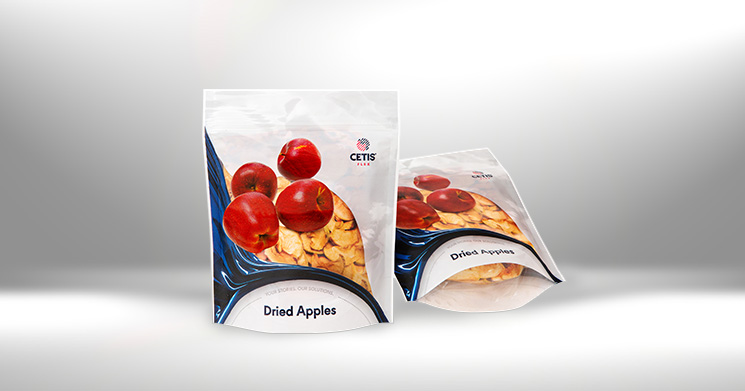 CETIS offers a variety of options:
Materials
Different combinations of materials (on reels and in the form of bags and pouches) provide for optimal storage of various products such as coffee, snacks, cheese, honey, confectionery, frozen food, pharmaceuticals, etc., maintain their freshness, aroma and flavour and help the product obtain better exposure on shop shelves.

All materials are suitable for contact with foodstuffs and, if required, are also compliant with pharmacopoeia.
SINGLE-LAYER MATERIALS (Polypropylene films)
For storing simple products that do not require special protection.
DOUBLE-LAYER MATERIALS (OPA, PET and BOPP in combination with LDPE or barrier materials (with EvOH etc.). For packing heavy products such as frozen food, milling and dairy products, sugar, honey, cocoa, animal food, cheese, etc.
THREE- AND FOUR-LAYER MATERIALS
Triplex and quadriplex (in combination with aluminium or metallised materials) provide protection from the sun and preserve the flavour and freshness of the contents. This is the most efficient method of protecting the quality, expiration date and safety of the product.
For coffee, spices, dressings, pharmaceuticals, animal food, etc.
Options
Choose high-quality pre-produced bags and pouches of various sizes, formats, materials and functions. You may print up to eight colours. Play with matte or gloss effects so that your products really stand out on the shelves. For better functionality, add:
Matt or high-gloss finish
Round corners
Tear notch
Euro hole (sombrero)
Easy opening
De-gassing valve
Zip closure
Bottom angle seal (K-seal)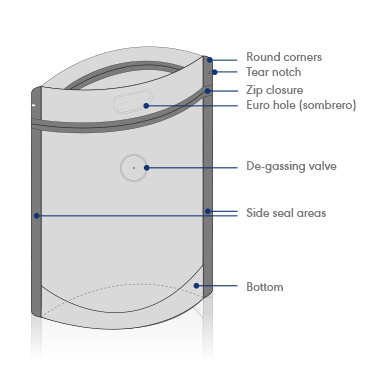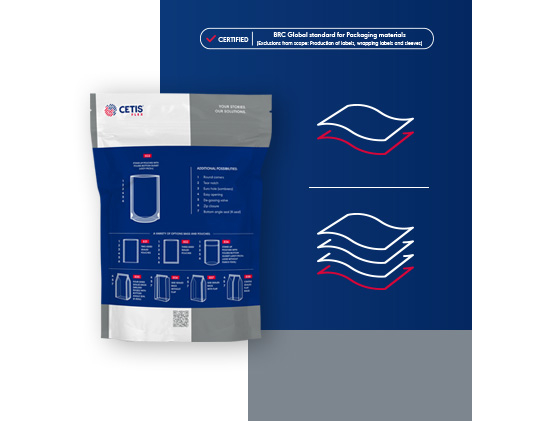 Sustainable and biodegradable packaging
Consumers increasingly ask for sustainable forms of flexible packaging, and its use is also encouraged by producers of foodstuffs and large retail chains.
For this reason, while taking into account the trends and draft guidelines provided by the Circular Economy for Flexible Packaging (CEFLEX) association, our experts are developing environmentally friendly, sustainable flexible packaging with the highest possible proportion of material suitable for recycling, or reusable packaging. At the same time, it should be suitable for contact with foodstuffs; maintain the freshness, appearance, aroma and flavour of final products; comply with the required safety and quality standards, and be affordable.
How can we help you with your challenges?
Trust our experienced professionals to handle them.
Explore all products of Commercial Printing Solutions
Are you looking for quality solutions and a reliable partner?